Dropshipping is one of the coolest business ideas these days. The best thing is that it requires no investment. It is simple to set up and capable of capturing a huge market. No inventory management and no shipping logistics. it's allows you to bypass inventory and logistics and start an online store. In traditional e-commerce business, it is impossible to avoid these stages. By the end of this guide, you will be able to set up your Dropshipping business with WordPress. We will make sure to illustrate the whole procedure comprehensively. Moreover, you will also receive valuable tips on finding the best products for third party business and boosting up your revenue. So what are you waiting for? Scroll down and start your dropshipping business today.
Dropshipping Business Model
Here is the simplest definition. "Dropshipping is an online business where an eCommerce store doesn't keep the products in stock, meaning no inventory cost." When the customer places the order, the owner forwards the order to the direct vendor. Then the vendor ships the product to the customer. Imagine the level of convenience. You simply forward the purchase order to wholesaler or manufacturer, when the consumer places an order. This low operating cost and easy setup have made dropshipping the hottest eCommerce trend of the modern era.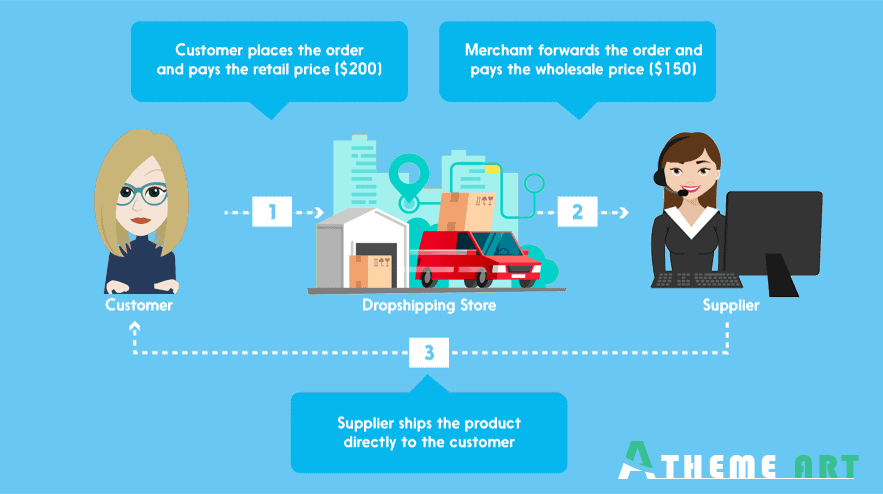 So precisely, there are four main pros of dropshipping.
Little initial investment.
No need to purchase a product or manage inventory.
No pains in shipping the good.
Sell a variety of products, globally.
However, there are a few cons as well. Let us look at them.
Zero control over product quality and availability.
That makes it difficult to manage customer expectations.
You cannot provide customer support.
Selling one item at a time, decreases profits.
Yet dropshipping is one of the proven ways of making money online. Now let us teach you
how to start a dropshipping
.
How to Start Dropshipping
This is not as difficult as people tend to think. A number of
eCommerce platforms
in the market allow you to set up your third party store without any technical skills. Most of the experts recommend
WooCommerce / WordPress
. The setup cost of WooCommerce is very low. Moreover, it comes with multiple payment gateways and flexibility to customize your online store. Hence, WooCommerce is the number one software to build eCommerce stores. In addition, it is the most popular choice among dropshipping stores. It runs on the top of WordPress, which is the most famous website builder. You get access to thousands of great WordPress extensions, third-party integrations and store designs when you use WordPress.
The Prerequisites
WooCommerce is the free WordPress plugin. To start your third party store, you will need a self-hosted wordpress.org website. The following things are required to start it with WordPress and WooCommerce.
The Domain Name (.com )
Web Hosting Account (Where your website files are stored)
SSL Certificate
The domain name normally costs $8.25 per year and letsencrypt SSL certificate costs free. The costs of web hosting accounts start from $5 per month. It might not be affordable if you are a beginner. hostinger offers amazing discounts if you are a WP Beginner user. They provide hosting with the free domain name and Free SSL certificate.
You can get it all for $2.75 per month.
Then comes the stage of installing and activating the wordpress plugins. After activation, shows you a guided setup to select currency and other basic settings.
Choosing the Design
User experience holds the utmost importance today. The very first thing any visitor experiences is the appearance of your
store
. You can choose one from
hthousands of great dropshipping WordPress themes
for your store. Thanks to WordPress. Let us tell you about four of the best WordPress themes for a dropshipping business.
How to Find Dropshipping Products to Sell on Your Website
Now you have to look for products. Make up your mind about the products you want to sell, and then start searching. The best is to select a niche for your store. That will facilitate not only in finding the
most profitable dropshipping products
but also the prospective consumers. Let us say that you want to sell clothing and accessories. You can narrow them down to style, theme and target audience. Generally, experts advise you to pick up the niche you are familiar with and have a passion for. If you are not familiar with topics related to your goods, you will struggle more. Look for products in a particular category after you finalize your niche. You may browse
Amazon
to find out the trending products. Take some time out for proper research. Amazon is there to let you know about the best-selling and top-rated products of many niches. Keyword research is the best thing you can do. It will help you find out which product categories people frequently search on the internet.

Where to look for third party Suppliers & Vendors
I hope now you have finalized your goods. Now is the time to find the dropshipping suppliers who offer your target products. You can find them on many online marketplaces. Check out this quick list of the best dropshipping marketplaces to look for suppliers.
Most of the gurus recommend AliExpress for various reasons. No doubt, the credit goes to super WordPress plugins. These plugins let you import products directly from AliExpress to your store easily. You can also keep it synchronized. Order fulfillment also becomes quite convenient for eCommerce stores. You can find reliable vendors with great ratings by
analyzing marketplace data
, as you are working with the largest marketplace for third-party suppliers. You can also sell third-party products for affiliate commission on your store. This way you can offer a large range of products. This leads to increasing conversion and diversifying your income stream. Perhaps the best source to find affiliate goods is Amazon.com. Here you can find unique products to provide more shipping choices in your store. However, remember that you will not be able to set custom pricing. That would somehow decrease your affiliate earnings.
How to Add Dropshipping Products to Your WooCommerce Store
WooCommerce does not come with seamless functionality by default. Anyhow, many great
dropshipping plugins
are there to let you do that. With extensions, you can add goods and set custom prices with a desired profit margin. In addition, you can collect orders; send them to suppliers and much more. This all functionality of dropshipping extensions depend on the supplier or marketplace you pick. Are you selling products from multiple suppliers and from different marketplaces? Well then, you will need multiple extensions to automate the checkout process. Top three add-ons for WordPress are as follows:
AliExpress Dropshipping with Ali2Woo . Import thousands of products on AliExpress easily. It offers seamless checkout experience and 1-click order fulfillment.
ALD. A famous plugin that makes it super simple to import goods from AliExpress. Moreover, it automatically adds product images and synchronizes pricing.
WooCommerce Dropshipping. Last, but not least. WooCommerce lets you incorporate other third-party suppliers or vendors to your store. Hereafter you can send them order details in PDF format for fulfillment.
How you add goods to your store depends on which extension, marketplace or supplier you adopt. You can automatically import products if the extension allows you. You might want to add products to your store manually. Here is how to do that.
How to Add Products in WooCommerce Manually
It is quite simple to add products to your shop. Visit Products and hit Add New Page, inside your WordPress admin area. Then provide a product title and a detailed product description. Next would be the step of selecting the product category and upload product photo and product gallery images.

Product images can be downloaded from the supplier's website. However, do not forget to ask for permission. Using images without consent can lead to serious legal consequences. After proper consultation, they may provide you additional images. Now add product details under the Product Data Section. You can set the product price, attributes and other options here.

Below that, you will be provided space for giving a short description. This description will be shown on the shop front, category, and search pages. Go ahead and let your product go live. It is definitely the time to publish the product. Keep repeating the process to add more and more products.
How to Manage Dropshipping Orders in WordPress
Now customers can place their orders on your website, as your products are live. Do you want to review the customer orders? In the WordPress dashboard, visit WooCommerce and hit Orders. You may come across an option to fulfill orders from here, depending on the extension you use. It would send the customer's orders details to the supplier associated with the good.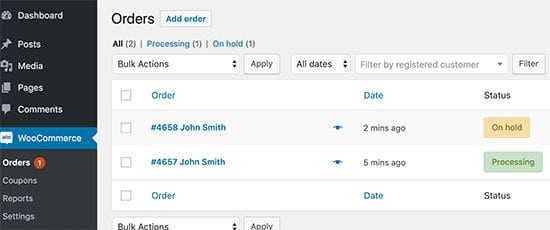 AliDropship makes it easy to send orders to suppliers with a single click. But it is also possible that your extension does not support this feature. So what to do in that scenario? Well, then you can manually place the order with your supplier by giving them customer's order details and shipping information. Click on every order to review it.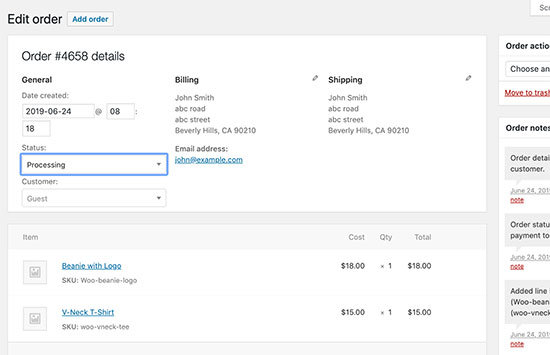 There will be an order details page. There you can view ordered products, customer payment information and edit order status. Change the status to complete, once the supplier ships the order.
Tools & Resources to Nourish
The real journey begins once your store is up and running. Setting up the third party store with WooCommerce is not rocket science.
Challenges are promoting your business
, driving traffic to your website and converting visitors into customers. You have to put dedicated efforts in improving your marketing strategy. Let us tell you about some great tools and extensions to face these challenges. We will start with the basics.
E-Commerce SEO SEO helps you get more and more traffic from search engines. Find out WordPress SEO guidelines on Google and practice them to get the best results.
Optimize Conversions After getting a stable stream of visitors, you have to convert them into customers. The visitor not placing an order is of no use. This is called conversion in marketing language. Optimize your conversions to boost your sales. OptinMonster is the number one conversion optimization toolkit on the web.
Recover the Abandoned Carts Both previous techniques help you drive the customer to your store and discover the maximum products. Still many of them may not complete a purchase. They make an account, add goods to cart, and go away. Learn how to make these customers return to recover your abandoned carts.
Ecommerce Analytics For sure, you need to monitor how much of your efforts are paying off. To check it, download MonsterInsights. It would help you install Google Analytics. In addition, OptinMonster comes with an enhanced eCommerce tracking feature. You can see which products are famous and which pages are not performing as expected.
Miscellaneous Plugins WooCommerce comes with more than 55,000 WordPress plugins. Many of them are tailor-made for eCommerce websites. These plugins will let you add features like contact forms, good comparisons, currency switchers, and much more.
Frequently Asked Questions
We always come across many questions when we start anything new. It also happens in the dropshipping venture. Many questions nag novice third party storeowners. Here are the answers to one of the most commonly asked questions about dropshipping with WooCommerce.
1.How about Shopify?
Yes, you can start your dropshipping business with Shopify. However, Shopify charges you for each transaction, which influences your profits. Another downside is the limited number of extensions and apps. WooCommerce gives you far more extensions and another level of flexibility. So WooCommerce is better for you as a third party business owner.
2.Can I Start my Business with BigCommerce?
Yes.
BigCommerce
is a popular platform that can be integrated with WordPress. It offers more payment gateways and does not charge any transaction fee. Nevertheless, to some extent, it also lacks in extensions and flexibility. However, it provides the best scalability third party
3. Which hosting company should I choose for my WooCommerce shop?
Nearly all experts will recommend hostinger. A shared hosting plan of theirs is the best option to get started. If you are interested in any alternative, we suggest you
Nexcess
or
namecheap
. The well-known platform for heroic support and fast servers.
4. Is it possible to install WooCommerce on my existing WordPress website?
Yes. WooCommerce is available as a WordPress plugin.
5. How to ensure that suppliers deliver products on time?
Based on
International trading data
and
custom research reports
, Dropshipping market is segmented into North America,
Europe
, APAC, MEA, and SAM. But most of them are located in China & Europe. So delivery will, of course, be slower if you are anywhere other than China and Europe. A faster shipping method is ePacket.Many suppliers use
Fedex
,
EMS
, and
USPS
offers a huge benefit.It is easy to facilitate online shopping and delivery to the customers with the right technology, even in rural areas.
6. Is Dropshipping Legal?
Yes. It is legal throughout the world. Super convenience makes new people doubt its legal status though. Dropshipping in simple language is just a form of order fulfillment where the supplier or manufacturer handles shipping. Nothing is illegal about dropshipping.
7. What to look for when finding a supplier?
Many marketplaces would let you see supplier information. Their ratings, number of successful deliveries and other useful information. Thus, you can make up your mind about them. Read the review to learn the quality of the good they have delivered. We hope that this guide helped you a lot with WooCommerce dropshipping.